2021 Season Vendors
---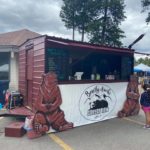 Bear'ly Awake Coffee Den
(406) 293-1976| bigskyemt@gmail.com
Coffee drinks, frappe, lemonade, ice tea, energy drinks, smooties, & italian sodas
You can also find Bear'ly Awake at their location on Highway 2
---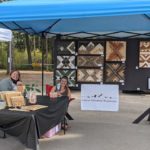 Cabinet Mountain Woodworks
(406) 291-9086| jess.selle@hotmail.com
Wooden signs, handcrafted leather earrings, & more.
You can also find Cabinet Mountain Woodwork's signs displayed at Cabinet Mountain Brewing
---
Camp Creek Coffee Roasters
(406) 471-9465| info@campcreekcoffee.com
Local, fresh roasted coffee.
You can also visit Camp Creek Coffee Roaster's location on Mineral Avenue in downtown Libby!
---
Country Creations, LLC
(406) 291-0584| dparrish0323@hotmail.com
Epoxy Tumbler, key chains, coasters, t-shirts & more!
You can find Country Creations, LLC at the Farmers Market at Libby every Thursday!
---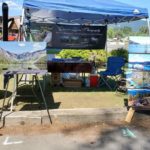 Days to Remember Photography (Jessica Lynn Photography)
(904) 556-1243| jessicalynnphotograph@gmail.com
Unique metal prints of the Libby area, Glacier National Park, and Montana as a whole! Jessica Lynn Photography also offers photography services by request.
---
Dolezal Fruit
(678) 464-3643| montanalarkspur@yahoo.com
Locally grown, chemical-free fruit; apples, pears, plums, grapes,  flowers, & herbs. Vegetables; broccoli, kabocha squash, pumpkin, & tomatoes. Jam, pastries, dried fruit, hazlenuts, & more!
---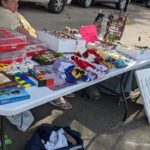 Donna Huddleston & Mary Gerke
(406) 293-1804| donnahuddleston32@yahoo.com
Crafts, baked goods, homemade salsa, pickles, & other goodies!
Find Donna & Mary at the Market each week! 
---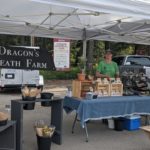 Dragon's Breath Farm
(406) 293-8278| dragonsbreathfarm@gmail.com
Veggies, cut flowers, eggs, handwoven garments, dried flowers, and chicken clothes.
Dragon's Breath also sells at the Troy Farmers Market and have year-round egg and microgreen delivery.
---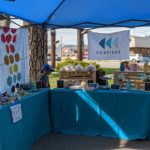 Foxfishe Farm
(425) 442-6984| kelseyfoxfox@gmail.com
Eggs, goat milk soap, quilts, bread, cinnamon rolls, keychains, lip balms, lotion bars, goat cheese, veggie, herb starts, & produce.

Find Foxfishe Farm at the Market each week! 
---
Fuel – Asian Fusion
(206) 713-0951| ponsakounthong@gmail.com
Asian fusion cuisine featuring eggrolls!
Find Fuel at the Market each week! 
---
Ginger's Drawings
(406) 303-0300| gingersdrawings1@gmail.com
Art; illustrations, custom artwork, portraits, cards, handmade crochet, knit, & sewn items.
Find Ginger's Drawings at the Market each week!
---
Gracious Table
(406) 263-7485| gracioustablemt.com
Sourdough bagels, sourdough breads, scones, muffins, cakes, caramel apples, jams, hand pies, rolls, spices, granola and dog biscuits.

Gracious Table's breads and baked goods can be ordered online or by calling/texting (406) 263-7485
---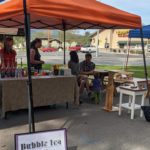 HF Custom Tables
(406) 291-2434| glory2trinity@yahoo.com
Picnic tables, Chicknic Tables (chicken feeders), wooden tealight holders, end tables, and Bubble Tea! (Iced tea with popping pearls)

Check out HF Custom Tables on Facebook: HF Custom Tables
---
Hoot Owl Farm
(406) 318-5339| info@hootowlfarm.net
Wide variety of vegetables, herbs, flowers, and in the spring will also have plant starts for gardeners. All Hoot Owl produce is naturally grown without synthetic fertilizers, herbicides, or inorganic pestisides.
Hoot Owl produce is grown using organic practices. They attend several local events including the Harvest Festival, Apple Festival, and Health Fair. Hoot Owl also markets products throught CSA and at the Troy Farmers Market.
---
Kootenai Climate Group
(406) 334-7151| kootenaiclimategroup@gmail.com
Information provided by the local Kootenai Climate Group.
Find the Kootenai Climate Group at the Market each Thursday!
---
Lincoln County Library
(406) 293-2778 | aramirez@lincolncountylibraries.com
Books available for checkout from your local library.
You can also visit the Lincoln County Library – Libby at 220 W 6th St. 
---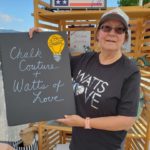 Lindy's Chalk'N & Craft'N
(772) 359-4775| lsborchid@juno.com
Home decor items, signs, craft DIY kits, garlands, banners, & repurposed items for home decor.
Checkout Lindy's Website or Facebook Page!
---
Log Barn Homestead
(406) 293-9473| barninout@hotmail.com
Eggs, vegetables, goat cheese, flowers, flower bouquets, & more!
Find Log Barn Homestead at the Market each week!
---
Lucky Horseshoe Candle, Co.
(406) 671-2856| contact@luckyhorseshoecandleco.com
Soy/coconut hand-crafted candles, wax melts, room sprays, car fresheners, and fire starters (wax)!
Find Lucky Horseshoe Candle, Co. at the Market each week! 
---
Lonita's Bonitas
(406) 293-2490 | putt667@gmail.com
Yard art; hanging bird feeders, bird baths, potted glass flowers, wind chimes, & suncatchers. Other items including coat hangers, repurposed vintage windows, Reader's Digest bookcovers repurposed, fabric bags, yarn scarves, Eco Ivory jewelry, macrame, & yarn art!
You can also visit Lonita's Shop Store – 667 No. Central Road Libby, MT 
---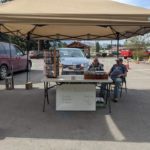 M+M Jewelry & Jelly
(406) 334-9357
Locally made jewelry and jelly varieties!  
Find M+M Jewelry & Jelly at the Market each week! 
---
Sandy Allen's Afghans
(406) 291-6272 | candlespaz88@yahoo.com
Beautiful, hand-made afghans.
Find Sandy Allen's Afghan's at the Market each week! 
---
Speedy Needle
(406) 291-6272 | jonniegigi@me.com
Handcrafted, sewn cloth and textile items
---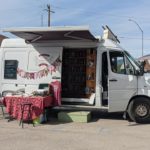 St. Rita's Amazing Traveling Bookstore
(406) 890-0625|collinsrita@yahoo.com
Huge selection of used books, vintage post cards, and t-shirts!
---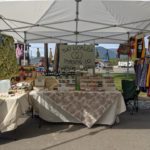 Two Worlds Trading, Co.
(406) 291-4927 | seanna.poppy.johnson@gmail.com
Soap, balms, chapsticks, oils, herbal care products, and remade clothing & accessories.
You can also find Two Worlds Trading, Co's products at the Evergreen Motel Gift Shop!
---
The Wirebender
(208) 297-2520  | lordweezil@gmail.com
Recycled copper jewelry, copper items, & more!
You can find The Wirebender at the Troy Farmers Market!
---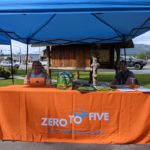 Zero to Five Lincoln County
(406) 360-5898| drowland@libby.org
Kid's Corner at the Market! We will provide fun engagement activities and community resources.
Find Zero to Five in the Kid's Corner at the Market the 3rd Thursday of each month! 
---
The Zen Butterfly
(406) 291-6524 | thezenbutterfly@lfrosty.com
CBD Oil, gummies, natural bath & body products, and aroma therapy.
You can also find The Zen Butterfly at the Troy Farmers Market.
---